Fretting because its the party season and you can't fathom the horror of being seen in the same dresses as every other online shopping savvy girl? Here's where
Blu Sunflower
comes in ;)
Blu Sunflower is a online clothing store that offers an eclectic selection of apparel ranging from modern peplum tops that are all the rage now and one-of-a-kind vintage pieces. that's definitely something new from the mass-manufactured apparel - you have to admit that sometimes, seeing similar designs in every other blogshop is kind of boring.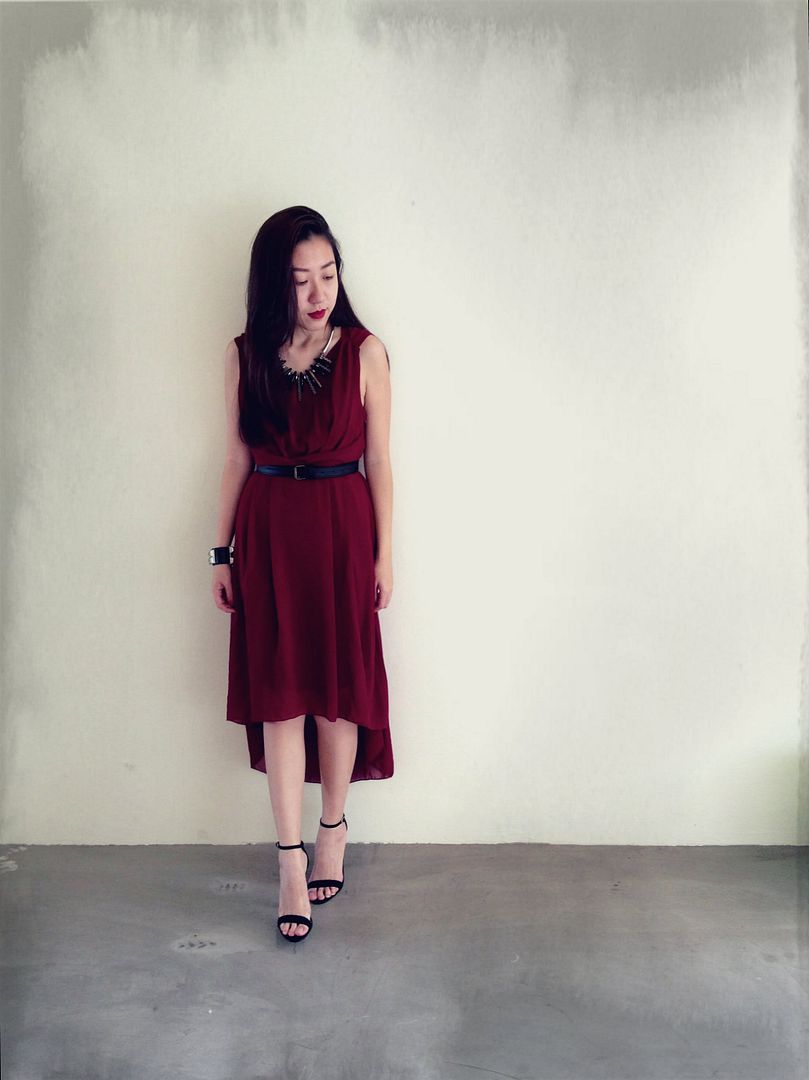 So Jessica from Blu Sunflower very kindly sent me the dip-hem cocktail dress in wine, and it couldn't have come at a better time. Wine (or oxblood, which appears to be the more fashionable term at present, though i still prefer calling the shade wine) is such a beautiful Fall/Winter colour that just brings to mind sipping wine with cozy dinners on chilly nights and the glitz of Christmas parties.
There's just something about the dip hem that i love - i can't decide if its the flow of the fabric against my legs as i walk or how it seems to make me look ever so slightly taller. Or maybe i just love it irrationally and am just finding random reasons to justify why. After all, fashion isn't supposed to be complicated, right? We just like what we like.
Decided to break out my new black strappy sandals from ASOS to complete the look and i really like how it looks overall, despite the fact that i could barely walk, haha. i'd contemplated sending them back (the shoes, not the dress), but my sister convinced me they were so gorgeous i needed to learn to walk in them. i guess, no pain no gain?
I was also happy that my deep red lip shade - NARS Terre de Feu, went perfectly with this dress. Subtle class has never been easier; even if you feel terrible inside, slipping on a pretty dress and red lipstick makes you look like a million bucks on the outside.
Delicate ruches and draping, for a soft touch.
If you like what you see, do check out
Blu Sunflower
! Random, but i think their model is exquisite, i love her delicate 气质 that complements the vintage apparel so well. If you're tired of the mainstream blogshops, you definitely should check out Blu Sunflower for a breath of fresh air :) Their upcoming pieces on
Facebook
look amazing, and i know i'm definitely gonna be following them on
Twitter
for more updates ;)
Thanks for reading; be back soon!